In this blog you will know about best online mppsc coaching where you will also be able to select best online coaching for Mppsc. With the help of these coaching institutes you can prepare for mppsc pre, mains and interview online. First of all we get some information about this exam after that we will know about Online Coaching For MPPSC.
About MPPSC:
Madhya Pradesh is one of the fastest growing states of the nation. To maintain effective governance and public administration of the state, the Madhya Pradesh Public Service Commission (MPPSC) recruits highly qualified, skilled and efficient aspirants to various state government departments of Madhya Pradesh. The Madhya Pradesh Public Service Commission was inaugurated in 1956.
One of the significant functions of MPPSC is recruiting suitable candidates by Direct Selection, Promotions, or Transfers. For the natural selection process, the commission conducts the State Civil Service Examination. It covers several jobs related to Grade I, Grade II and Grade III, selected as Deputy Collector, Deputy Superintendent of Police, Village Development Department, Additional Assistant Development Commissioner of Panchayat and Block Development Officer, Jail Superintendent, Commercial Tax Inspector, Sub-Registrar, etc.
Read this for - Best Offline Coaching for MPPSC
1. Kautilya Academy (Online MPPSC Coaching)
Kautilya Academy is India's largest and most beloved platform for mppsc online coaching. Academy has completed 20 years of success. Kautilya Academy has expert and experienced faculties and setting new heights of accomplishments in offline as well as online courses. Kautilya Academy works with an aim of developing the ignited minds whose objective will be something beyond mere selection.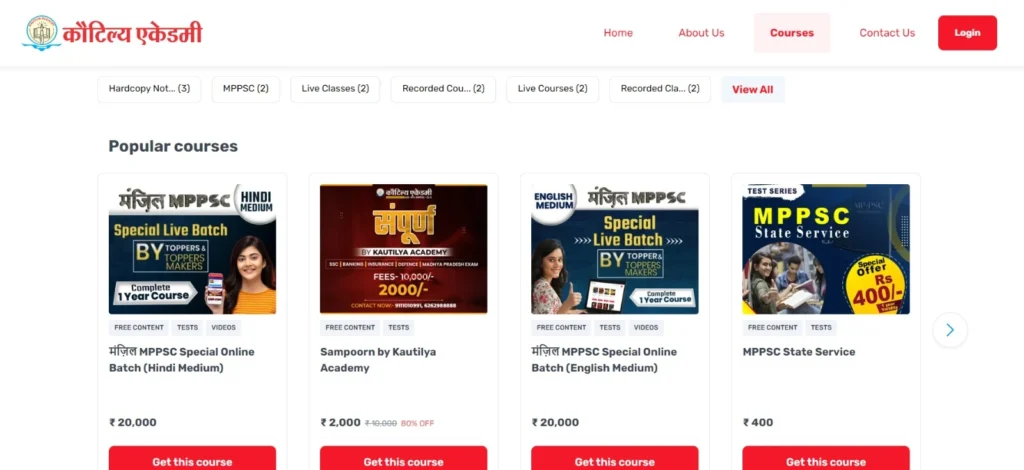 Kautilya Academy Provide best online mppsc coaching that include classes for Mppsc pre, Mppsc Mains Mppsc Interview and many other competitive examinations. They have their own online platform and application link given below. They Provide Live classes as well as recorded classes for the same.
Kautilya Academy website:
Kautilya Academy Contact Detail: 9111010991, 6262988888
Kautilya Academy Application Download Link: https://play.google.com/store/apps/details?id=pnp.com.kautilyaacademyapp
2. Aakar IAS
Aakar IAS is a well known institute for offline preparation of mppsc which has touched the heights of success in the last few years. Aakar IAS also provides online classes for mppsc through which you can also do your preparation sitting at home. It is one of the Best Online MPPSC Coaching institutes.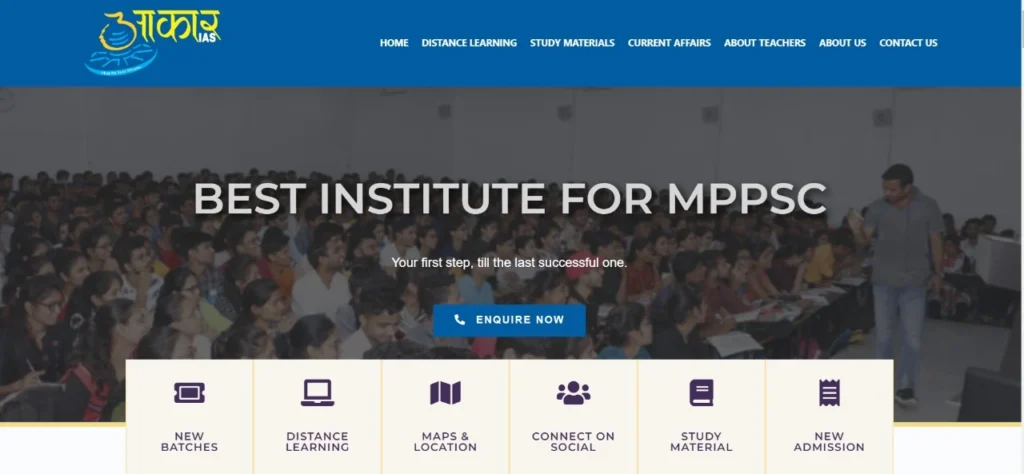 To know more about Aakar IAS visit their website: www.aakarias.com
Aakar IAS Application: https://play.google.com/store/apps/details?id=co.arya.kbwaq
3. Sharma Academy
MPPSC Online Coaching Classes by Sharma Academy helps you in the most adequate way to prepare for the upcoming Madhya Pradesh PSC Exam . The MPPSC online classes give you the facility to learn the complete MPPSC syllabus at your home. After completing the syllabus you can revise it from your comfort zone from anywhere. The best thing about this course is you can plug the Pendrive in your laptop and study if you are going with the SD card you can learn from your mobile, lastly if you take tablet course for MPPSC Online Coaching Classes you start learning from anywhere as you get time you need to carry only tablet.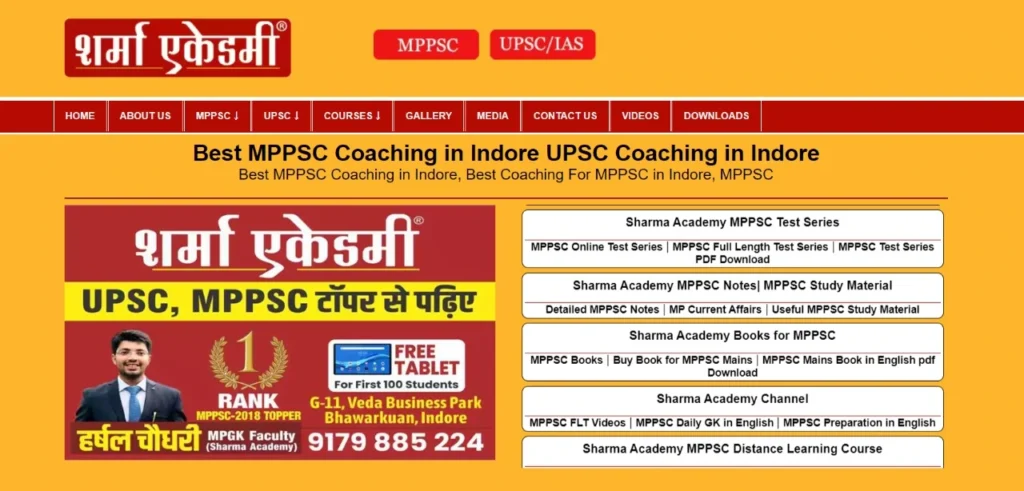 The MPPSC video course includes recorded video lectures by subject experts, high quality mock tests, doubt clearing sessions, complete study notes for MPPSC, daily practice test series, and many more for students who are appearing for upcoming MPPSC prelims exam.
Contact: 9907014487, 9179885224
Website: https://www.sharmaacademy.com/
4. MGICS
MGICS is a pioneer institute of central India. Here, they provide quality preparation and effective guidance to the aspirants with a team of experienced and dedicated mentors. MGICS offers various batches for UPSC, MPPSC, FOREST ACF and RANGER, SSC, MPSI and other competitive exams. As a team, understand the need of personal attention for the aspirants and always try to enhance the experience of one on one interaction with the faculty members and mentors.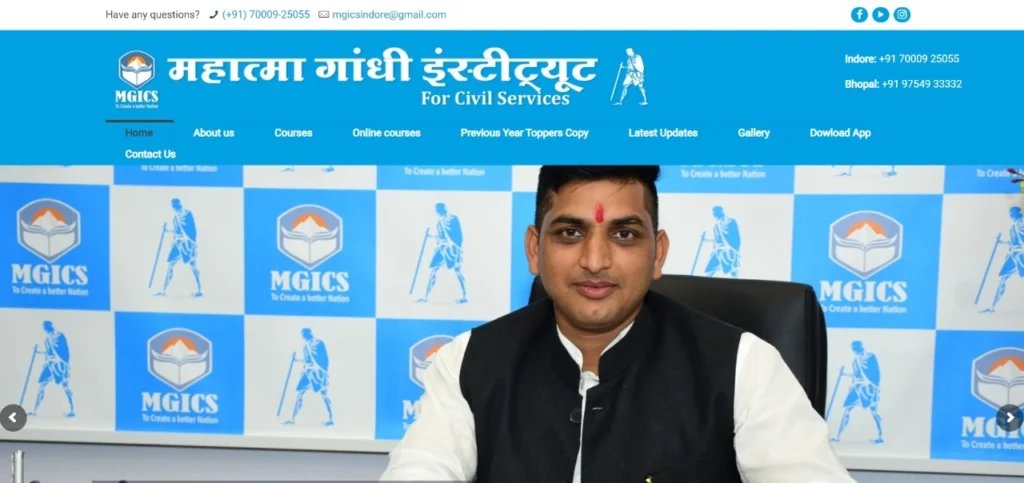 MPPSC MAINS STRATEGY जानने के लिए यहाँ क्लिक करें
MGICS is best known for conducting special classes for Answer Writing, Mains+, Quality Improvement and effectively curated Test Series. All these special programs are organized by the institute for both English and Hindi mediums.
Contact Number: 7000925055
Website: https://www.mgicsindore.com/
Application Link: https://play.google.com/store/apps/details?id=co.nedstark.mgic
5. Kothari Institutes
Kothari institute is one the prominent isntitution for mppsc preparation. Kothari institute provides Online MPPSC Coaching as well as offline. It is one of the most important online platforms for Aspirants. where they will be able to perform exceptionally well for the exams. There are several features in the institute that will help the students to learn impeccably.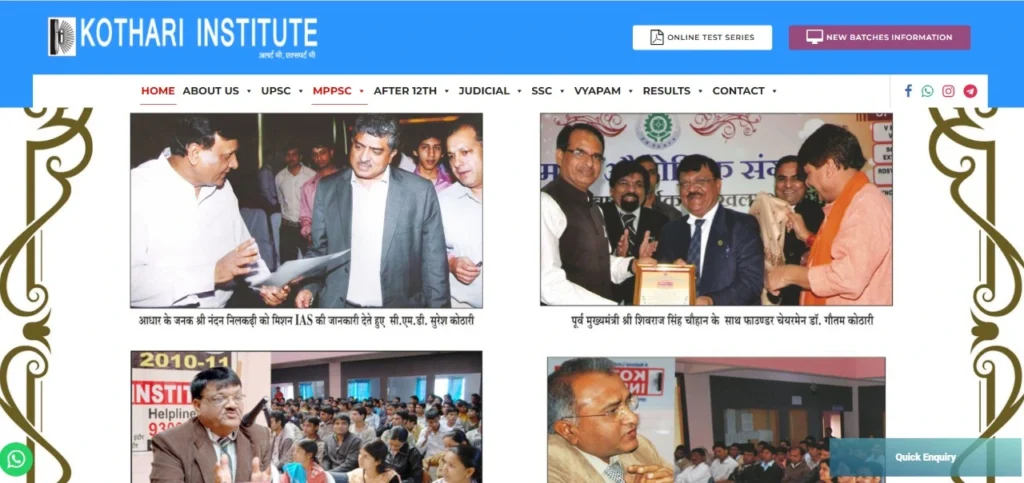 At present more than seven thousand gazetted employees in the civil service sector working in blocks, tehsils, districts and divisions of M.P. and chattisgarh had been coached in the Kothari Institute. Thus the Institute has become a synonym of success.
Contact: 9300728836, 9329902506
Website: http://www.kothariinstitute.com
Application Download Here: https://play.google.com/store/apps/details?id=com.kothari.institute
6. Exam Guruji
Exam Guruji is a Professional Education Platform. They provide online classes for Mppsc. Online mppsc coaching selection can be a tough task but i have selected some best institutions according to your need.
Examgurooji. e-Learning Platform for aspirants provides Study 24*7, learning on the go, Live Sessions, Test Series with Discussions and Pendrive Courses for MPPSC and PEB.
Contact: 9826590517
Website: https://examgurooji.in/
Application Link: https://play.google.com/store/apps/details?id=com.app.jaiyant.exam
7. Adda 24×7
I would recommend adda247 for beginners to start their journey of preparation for various government exams. Their study materials have no competition in the market. Adda247 educators are well experienced and have an exam oriented approach in their teaching style which allows them to crack the exams. Online mppsc coaching preparation is needed for various aspirants who do not stay in madhya pradesh state.
Website: https://www.adda247.com/
Application Link: https://play.google.com/store/apps/details?id=com.adda247.app
8. Drishti IAS
Drishti IAS is India's best institute for civil service preparation which provides offline and online classes for UPSC. Recently, Drishti IAS is providing online courses for MPPSC, which they provide through their Drishti learning application. They Provide Pendrive courses as well as online classes with validity of 2 years.
Visit Website: https://www.drishtiias.com/
9. Unacademy
Unacademy is India's largest learning platform which provides online classes for almost all competitive examinations. Unacademy provides a seamless course for Mppsc online preparation and it is also a good option for online Mppsc coaching. Here are the features of classes: Live Doubt Solving, 1:1 Live Mentorship, Priority in Live Classes.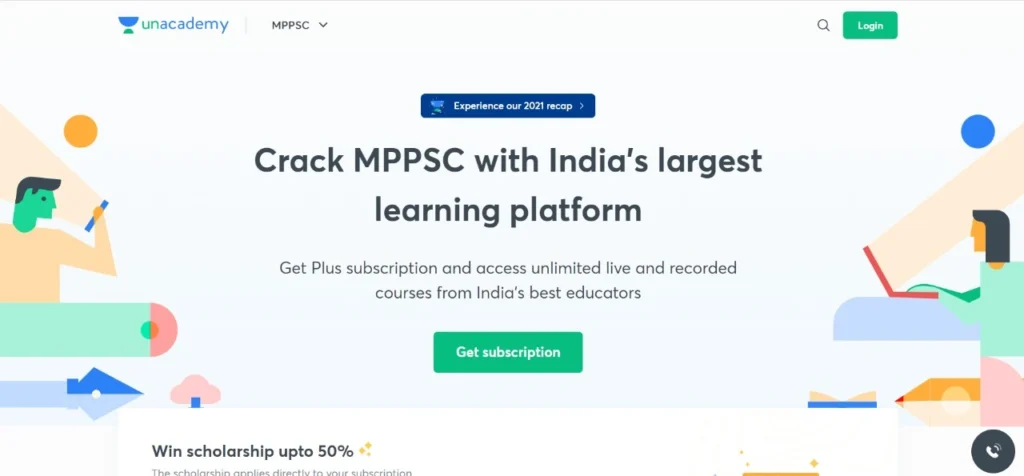 Unacademy plus benefits includes Live classes from top educators, mock tests & quizzes, structured batch courses in line with exam syllabus.
Application Link: https://play.google.com/store/apps/details?id=com.unacademyapp&hl=en_IN&gl=US
10. Gradeup/Byju's Exam Prep
Gradeup is India's giant startup that has recently merged with best edtech company Byju's. They provide classes for many exams in india. They also provide classes for online Mppsc coaching. you need to download their application to get updated regarding new courses details.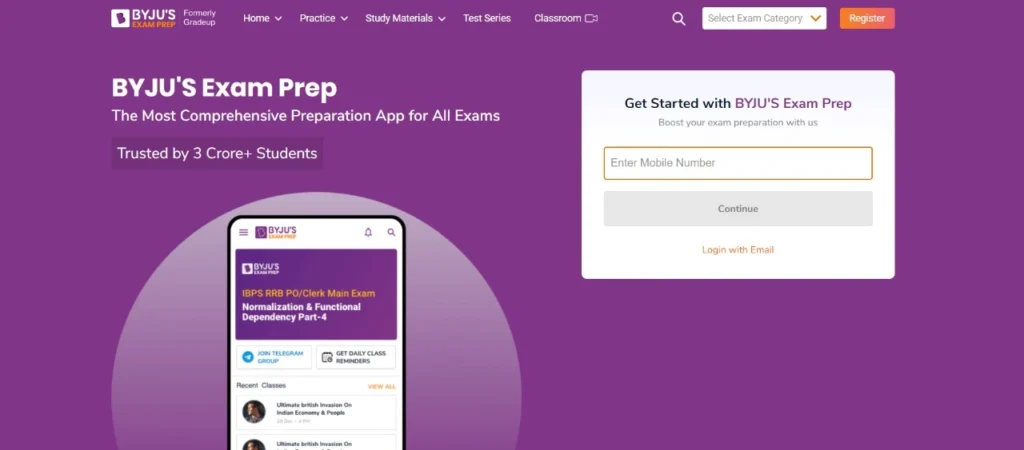 Recently they have not published any course for Mppsc online coaching but soon they will launch it.
Application Link: https://play.google.com/store/apps/details?id=co.gradeup.android
Website: https://byjusexamprep.com/