Hindi Diwas is celebrated on 14 September every year in India. On this day, students tell about its importance by reciting Hindi Diwas speech in english or hindi. The day holds special significance as it marks the adoption of Hindi as an official language by the Constituent Assembly in the year 1949. This date was chosen by the first Prime Minister of independent India, Jawaharlal Nehru. The most important thing is that Hindi is a Persian word and the first poem in this language was written by a famous poet named Amir Khusro.
The Hindi word in Persian roughly means 'Land of the Indus River'. India celebrates Hindi Diwas every year on 14 September to commemorate the adoption of Hindi in Devanagari script as one of the official languages ​​of the country. Hindi is considered to be the mother tongue of India. It is the simplest source of expression of our nation. It is our heritage and is the most spoken language in the country.
Apart from India, the Hindi language is also spoken in Nepal, Guyana, Trinidad and Tobago, Suriname, Fiji and Mauritius. Further in this blog we will know the history and importance of Hindi, which you all can use for Hindi Diwas Speech in english and Hindi Diwas Par bhashan.
Hindi Diwas History
The Constituent Assembly of India accepted Hindi, written in Devanagari script, as the official language of India on September 14, 1949. Officially, the first Hindi Diwas was celebrated on 14 September 1953. The reason behind the adoption of Hindi as one of the official languages ​​was to simplify the administration in a multi-language nation. Efforts were made by many writers, poets and activists to adopt Hindi as the official language.
The idea of ​​making Hindi the national language was first introduced by Mahatma Gandhi during the Hindi Sahitya Sammelan in 1918. The Constitution of India recognizes Hindi as an official language under Article 343. Former Prime Minister of India Atal Bihari Vajpayee was the first leader to address an international gathering in Hindi language globally in 1977, when he was the External Affairs Minister. He gave a speech in Hindi (Hindi Diwas par bhashan) in the United Nations General Assembly. The day also marks the birth anniversary of Bohar Rajendra Singh, born on September 14, 1949, who is credited with adopting Hindi as the official language.
Hindi Diwas Speech in English 2022
Greetings,
Today we all have gathered here for the celebration of this important day of Hindi Diwas. Hindi Diwas is celebrated every year on 14 September in India. 14 September 1949 was the day when the efforts of many literary historians like Bohar Rajendra Singh, Hazari Prasad Dwivedi, Kaka Kalelkar, Maithili Sharan Gupta and Seth Govind Das came to fruition. Although officially, the first Hindi Diwas was celebrated on September 14, 1953.
On this day, Hindi was adopted as one of the official languages ​​of India. 14 September 1949 was also the 50th birthday of the great litterateur Behar Rajendra Singh, whose contribution is noteworthy. This amendment was officially documented by the Constitution of India on the Republic Day of the following year, i.e. 26 January 1950. In Hindi, "Divas" means day. Hence this day is celebrated as Hindi Diwas to honor and honor many such historians who have made such remarkable changes.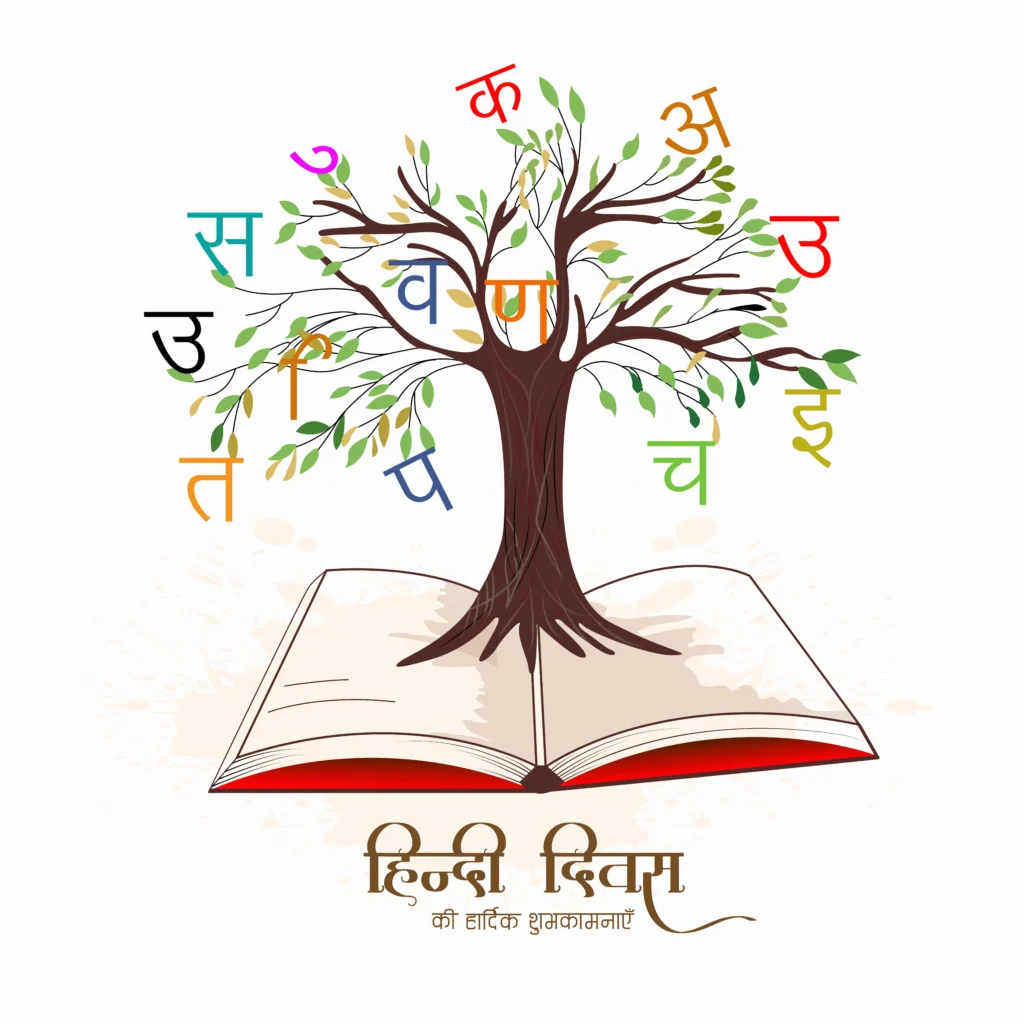 This day is also celebrated as a national holiday and government offices remain closed in the spirit of celebrating this National Language Day – Hindi Diwas. Parliamentary offices also do not shy away from celebrating. The President of the country gives commendation awards to those persons who have contributed immensely in the field of Hindi and have made our country proud. Watching this program is a proud moment for all the countrymen. Hence this day is celebrated with equal enthusiasm by the students of both school and college.
Celebrations are organized keeping in mind the importance of this day. Speeches for the welcome are given in Hindi. Various competitions are organized. There are both inter-house and inter-school programs. Many students participate with great enthusiasm in the function. Various competitions include poetry recitation, essay writing, speech and speech and singing competitions in Hindi in all Hindi Diwas.
Thank you all for listening to Hindi Diwas speech in a peaceful manner!,
My Hindi Diwas speech in English ends here.
Hindi Diwas Significance
Hindi Diwas is celebrated every year to promote the Hindi language. To promote Hindi, it is advised to use Hindi in place of English in all government offices. Many literary and cultural programs are organized across the country on this day, in which people celebrate the great works of Hindi literature. Rajbhasha Kirti Puraskar and Rajbhasha Gaurav Puraskar are also given to Ministries, Departments, Public Sector Units (PSUs), Nationalized Banks and citizens for their contribution and promotion of Hindi on Hindi Diwas.